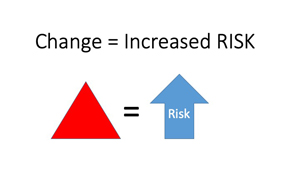 Yes, and it'll help us get better at what we do! Well, even though variety is the spice of life,  'change' is not always welcomed with open arms. I think that's why TC 176 included clause 6.3 setting out requirements for managing change.
One thing we know for sure – introducing change into a system triggers an exponential jump in all the associated risk factors. It's inevitable! That's why we need to be especially careful when making changes.
Here are the requirements from ISO 9001, Clause 6.3 to keep in mind:
Be sure about your reasons for making the change
Anticipate risks and possible negative consequences
Maintain the integrity of the system during the change – make sure nothing breaks
Determine what resources you'll need, end-to-end
Re-do the organizational chart if necessary
Following these steps won't eliminate risk, but it can sure help mitigate it! And be sure to point out to people that they'll be able to keep the parts of the 'status quo' that they like. This way, resistance to change may be a bit lower. If you try to sell the change on how great the new way will be, it just might not work.
Know Quality, Know Profit…No Quality, No Profit
We have easy-to-use tools built into our Cloud-based Management System platform for managing changes (a 'Change Management' record, for example). We'd be happy to spend 10 or 15 minutes with you to see if it's a fit…