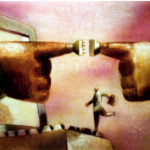 In 1980, The American Council of Retailers did some research on why people stopped doing business with various organizations. Here's what they found in 1980:
64% left because they felt ignored
12% left because they were treated badly (that's our policy)
11% didn't feel the organization was empathetic
9% found a lower price
3% moved away
1% died
Fast forward to 2018, almost 40 years later – Arthur Middleton Hughes, founder of the Database Marketing Institute, cites four reasons why customers leave businesses:
They die, or are no longer buying in your category
They are unhappy with the price
They are unhappy with the product
They are unhappy with the way that they are treated
So you can see that not much has changed in 40 years, even with all of today's technology and internet commerce, people still care about similar things.
With respect to 'Felt ignored' (1980) and 'Unhappy with the way I was treated' (2018), here are some things that might help:
Be Empathetic
Be Responsive
Create a sense of assurance
Follow up to add value
Remember, it costs 7 to 10 times as to get a new customer as it does to keep an existing one!
Know Quality, Know Profit…No Quality, No Profit
We have an easy-to-use customer satisfaction tool built into our Cloud-based Management System platform. If you'd like to see if it can help improve your customer interactions, schedule a demo. We'd be happy to spend 10 or 15 minutes with you to see if it's a fit…